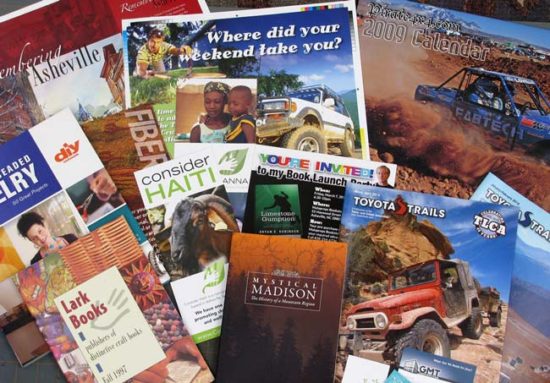 Printing Services
September Special
500 business cards full color (4/4) on a 16pt cardstock for only $50.
In addition to graphic design, Evolutionary Graphics offers high quality printing at the lowest prices on almost any material. We print business cards, menus, brochures, postcards and so much more.
Ask for a free quote! Our prices are very competitive, and the quality is unbeatable! You can call 828-237-1612 or use our contact form to send us a note. Be sure to tell us what you're printing and how many you'd like, and if you'd like us to do the design work for you.
Print Products Include:
Business Cards
Brochures
Letterheads
Envelopes
Postcards
Rack Cards
Menus
Labels
Flyers
Adhesive Vinyl
Announcement Cards
Banner Stands
Banners
Booklets
Bookmarks
Brown Kraft Cards
Bumper Stickers
Business Card Boxes
Business Cards with Rounded Corners
Buttons
Calendars
Car Magnets
Catalogs
CD and DVD
Coasters
Color Printing Over Foil (Akuafoil)
Counter Cards
Cube Boxes
Custom Boxes
Custom Orders
Decals
Displays
Door Hangers
Event Signs
Event Tents
Event Tickets
Fabric Banners
Flags
Foil Printed Materials (Foil Worx)
Greeting Cards
Hang Tags
Holiday Cards
"Holographic" 4D Lenticular Prints
Letterpress
Linen Paper
Luster Cards
Magnets
Mounted Canvas
Mugs
NCR Forms
Notepads
Outdoor Banners and Signage
Packaging
Painted Edge Business Cards
Pearl Cards
Pens/Pencils
Perforated
Pillow Boxes
Plastic Cards
Posters
Posters
Presentation Folders
Presentations
Proofs
Raised Foil
Raised Spot UV
Roll End Tuck Top Boxes
Roll Labels
Sales Presentation Boxes
Sample Request
Sell Sheets
Sidewalk Signs
Signs
Silk Cards
Stickers
Suede Business Cards
T-Shirts
Table Covers
Table Tent Cards
Table Tents
Tabletop Displays
Tear Off Cards
Tote Bags
Trading Cards
Variable Data Printing
Vinyl Printing
Wall Graphics
Waterproof and Crumble Resistant Papers (EndurACE)
Window Clings
Window Graphics
Wraps